Dual-Axis Turntable,Fully Automatic, High Precision,Rapid Scanning
Product Introduction
High-precision industrial vision sensor and lens, modular and extensible machine design and full-automatic two axis turntable;
One click to achieve different sizes and precision of 3D scanning;
Ultra thin turntable, three second opening and closing of the integrated folding body;
Small space occupation, convenient packaging and storage;
Multiple working distances available, fresh cable management, magnetic suction installation, plug and play.
✅Ultra-thin turntable
Ultra thin double axis turntable, a new benchmark in the industry
✅Seamless
Connect to the 3D Printer seamlessly.
✅Super dual axis
Fully automatic two axis turntable, one-click to achieve 3D scanning of different sizes and precision.
✅Full automation
Turntable automatic splicing.
✅Super expansion
Multiple resolutions and multiple precision, you can combine them to meet your demands.
✅Extreme speed scanning
It only takes 3 minutes for turntable scanning.


Technical Parameters
| | |
| --- | --- |
| Type | Reeyee-SP |
| Scan Mode | Auto Rotary Scanning, Free Scanning |
| Collage Mode | Rotary Table Auto Collage, Mark Point Collage, Manual Collage |
| Scan Precision | 0.05mm |
| Scan Range (Fixed Type) | 200*150mm |
| Scan Range (Professional) | 1200*1200*1200mm |
| Scan Speed | ≤3min |
| Color Mode | 24-Bit True color, Support for texture export and import, Texture segmentation edit modification |
| Output Format | STL、ASC、OBJ、PLY、VTK、OFF |
| Sensor Resolution | 3M Industry CMOS |
| Coded Transmitter | LED Cold Light (Eye Safety) |
| Shooting Distance | 400mm |
| Working Temperature | 0℃~40℃ |
| Machine Size | 607*240*214mm |
| Machine Weight | 1.9kg |
| Adapter Voltage | DC 12V ,5A |
| Maximum Load Bearing of Rotary Table | 5kg |
| Computer Configuration | OS:Windows7(64 bit)CPU:Intel i5 |
| Recommendation | RAM:4GB min GPU:NVIDIA GTX650 min. |
Technological advantage
✅Building block expansion
✅Multi-resolution Multi-precision Combination on demand
✅Ultra-thin two-axis turntableNew industry benchmark
✅Hidden line position

✅Say goodbye to the hanging cable, annoying little tail
✅Ultra-thin double shaft
✅Second fold
✅Easy assembly
✅Magnetic positioning 1 second in place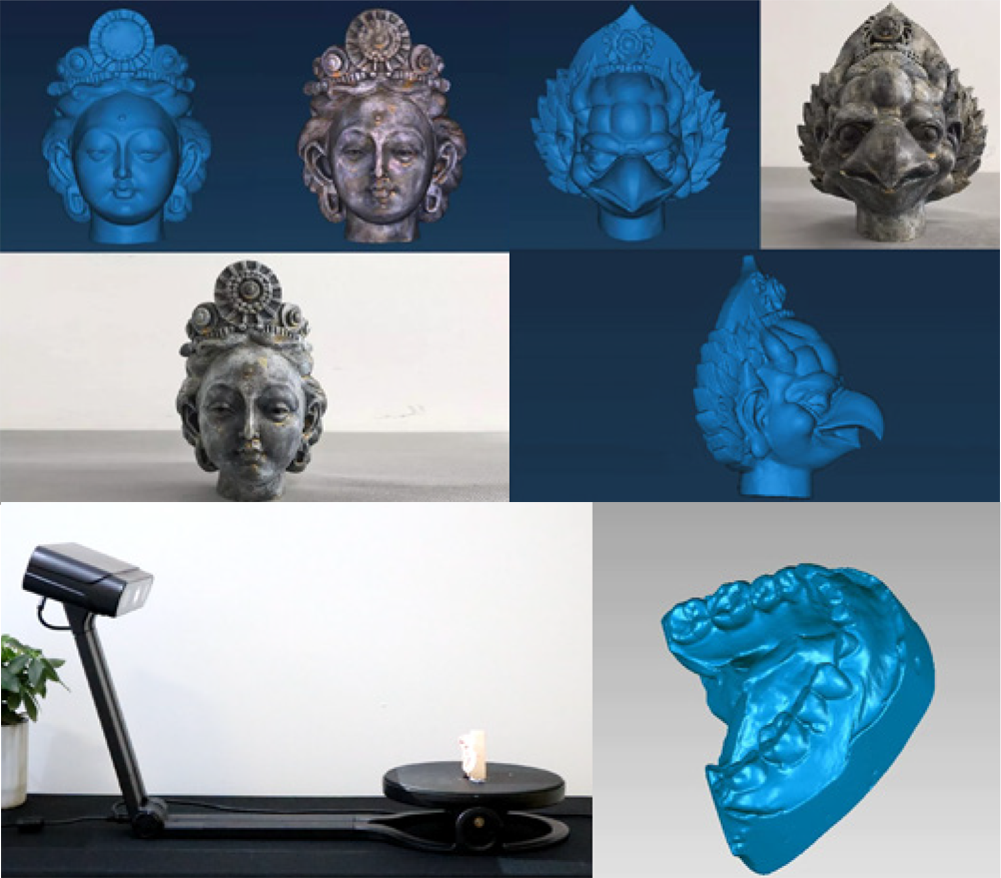 The following video shows example of SP 3D Scanner.
It is not the Wiiboox Reeyee SP 3D Scanner, it is only to give you an idea of how 3D Scans work. 
We will provide soon our video for the Wiiboox Reeyee SP 3D Scanner.  Let us know if you have any questions.