Flashforge Creator 3 Bullet Points:
Extruder temp. reaches 300℃, new independently designed nozzle, print more types of models with less temp. limitation
Support to print in bi-color and bi-filament, promote printing efficiency sharply
Build-in HD camera, monitor printing status in long-distance, check printing process real time
Flexible and removable build plate, easy to remove precise model, much larger and bendable build plate
Filament testing, stop printing automatically when testing abnormal filament feeding, ensure printing success rate
3D Cloud, an online platform, achieving Cloud management for 3D Printers and the uploading and storage of 3D printing files, providing a massive model database
Key Specifications:
Printing Technology: FFF (Fused Filament Fabrication)
Build Volume: 300 L X 250 W X 200 H mm; 11.8 X 9.8 X 7.9 in
Support Filament: PLA/ABS/PC/PVA/HIPS/PETG/W.P.C./Nylon
Filament Diameter: 1.75mm
Software: Flashprint
Connectivity:USB stick/WiFi/Ethernet/3D Cloud
Operating System: Win xp/Visa/7/8/10 Mac OS Linux
File Types:Input: 3MF/STL/OBJ/FPP/BMP/PNG/JPG/JPEG; Output: GX/G
Input: 100V-240VAC, 47-63HZ  Power: 500W
Extruder Quantity: Two
Nozzle Diameter: 0.4mm
Positioning Accurancy: X/Y Axis 0.011 mm  Z Axis 0.0025 mm
Layer Height: 0.05-0.4mm
Max Nozzle Temperature: 300
Heatable Platform Temperature: Adjustable Highest 120
N.W.: 40kg
PLEASE NOTE:
Customers need to know that no matter with free shipping or not, it does not include your country's import tax or clearance costs.
Please check carefully with your local custom before placing order.
When you place the order, ​please kindly leave us a message about what specification of power and plug you need.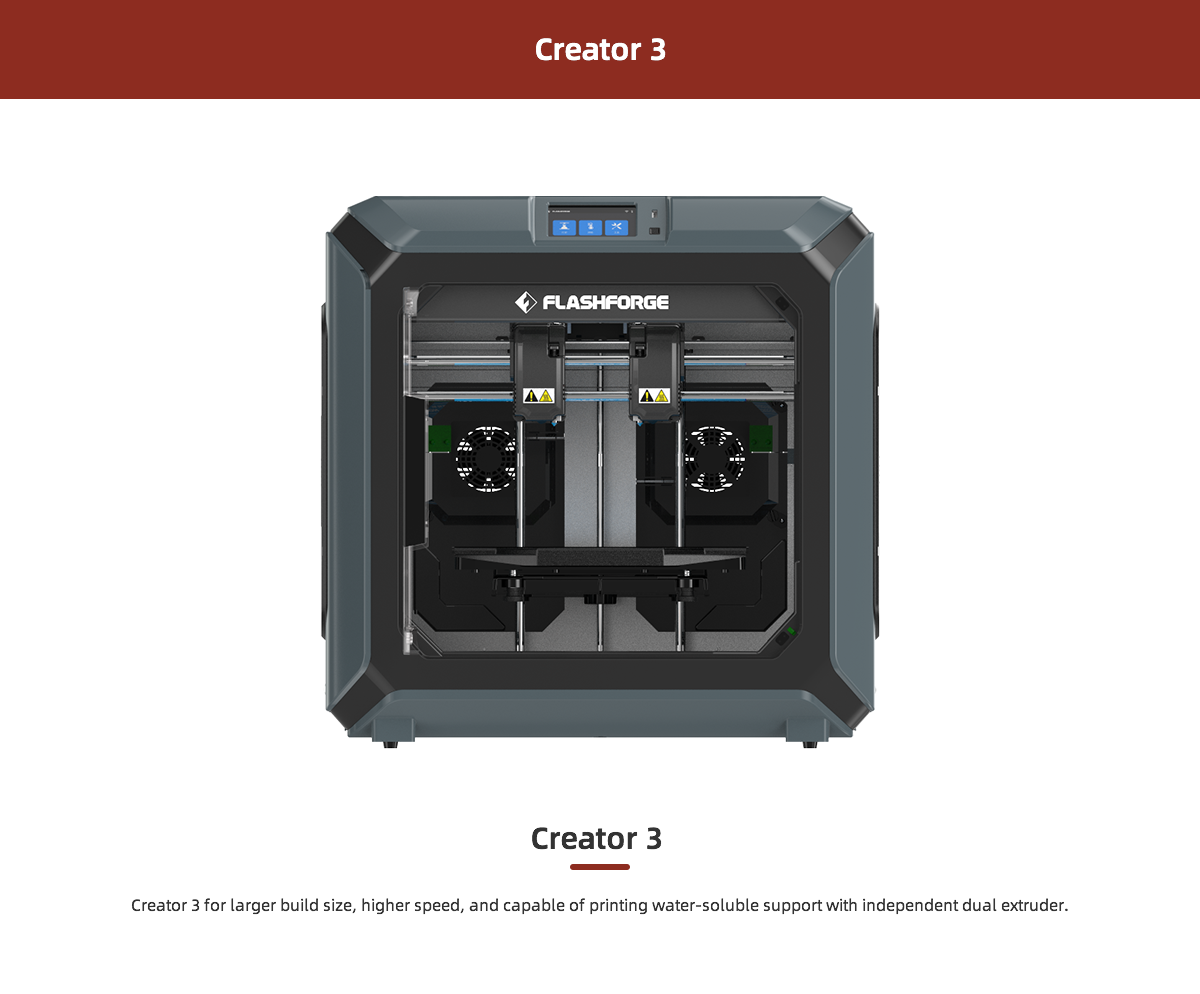 The Creator 3 is the culmination of years of experience, taking industrial level 3D printing into a more compact form factor. The Creator 3 uses independent extruders to allow for the printing of incredibly complicated shapes and parts with ease, using soluble supports. Independent extruders also allow for the printer to print the same part twice, allowing for small production runs at double the speed of an ordinary printer.